2015 Green Bay Packers Mock Offseason
2014 Summary
Finish 11-5, get bumped in the NFC Championship game, get the 29th pick
Awarded a 5th round comp pick
Defense finishes around 11-15 in both points and yards, the Dominator returns
2015 Packer Free Agents
Cap Casualties
Brad Jones -
Releasing Jones comes with 1 million dead money and 3.75 million in cap savings
Resignings
Brian Bulaga -
4 years - 22 million - 6 million guaranteed
Randall Cobb -
3 years - 24 million - 10 million guaranteed
Scott Tolzien -
2 years - 3.2 million - 1.2 million guaranteed
Letroy Guion -
1 year - 1.2 million - no guarantee
Tramon Williams -
3 years - 24 million - 4 million guaranteed (easy release after year 2)
Seandre Richardon -
2 years - 1.8 million - 600K guaranteed
Losses
Davon House -
Kind of comes down to he and Tramon, we go with the more durable sure hand
Jarrett Bush -
Sad to see him go, but we go younger
John Kuhn -
Sad to see him go,
Don Barclay -
Given a right of first refusal tender, he gets an offer we don't match
Jamari Lattimore -
Gets offered more for longer than we are willing to do
Matt Flynn -
Ditching Matty boy for Trollzien
BJ Raji -
Just not in the future plans
Extensions
Mike Daniels -
Well Earned, 4 new years for 36 million (effective 5 year 37 million contract)
Free Agents
Lance Briggs -
2 years - 7 million - Follows the his former teammate to a contender
2015 NFL Draft
Round 1
Spencer Drango - OT - Baylor - rJr
6'6" - 315 lbs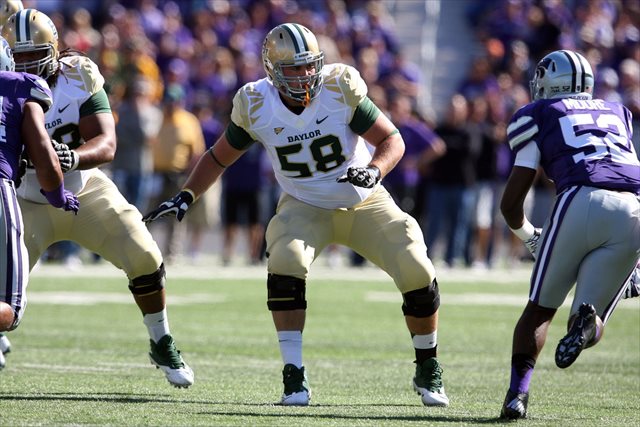 One of the top offensive linemen in college football, Drango enters his third season as the Bears starting left tackle.

STRENGTHS: Easy kick-slide with a wide base and the fluid lower body movements to properly protect the pocket from speed or power rushers. Drango is always alert and rarely caught off guard with a high football IQ and overall awareness to process situations quickly. He has the stone hands to jolt with little resistance, displaying the balance to handle defenders and stay off the ground.

WEAKNESSES: Very few holes to his game, but Nov. 2013 back surgery is a bright red flag and definitely something to monitor. If healthy and there are no long-term concerns, he has the overall ability to compete to be the top tackle drafted when he goes pro.

COMPARES TO: Zach Martin, Cowboys -- Drango has an impressive NFL skill-set as the game appears to come very easily to him.

--Dane Brugler (9/1/14)

Round 2
Lorenzo Doss - CB - Tulane - Jr
5'11" - 198 lbs
TYLERNFLDRAFT wrote: -Flips hips with ease.

- Natural ball skills reads the ball in the air so well.

-Straight burner.

-Circle game vs Houston. Will face NFL Caliber WR Greenberry in a great matchup.

Round 3
Paul Dawson - ILB - TCU - Sr
6'2" - 230 lbs
Ryan Gerbosi wrote: "When the Bednarik Award (best college defensive player) watch list was released in July, TCU linebacker Paul Dawson was not among the 76 players mentioned. He was recently added to the list, but it's not only the college community that is keeping an eye on him; so is the NFL. 'The more spread out the game is becoming, the more you need linebackers like him who can cover,' said an AFC scout."

Dawson led the Horned Frogs a year ago with 91 tackles and is doing the same again in 2014 with 68 at the midpoint.

Round 4
Sean Hickey - OT/OG - Syracuse - rSr
6'5" - 300 lbs
rotoworld wrote: "Hickey possesses the ideal height and musculature for a next-level tackle, and demonstrates nice functional strength particularly in his upper half, when engaging opponents," Stephens wrote. The 6-foot-5, 303 pound Hickey, was a All-ACC Honorable Mention last season and has 26 games starting under his belt for the Orange, with 17 starts at left tackle. Due to an injury back in 2011 the Syracuse prospect has a fifth year of eligibility to play. Our own Josh Norris believes Hickey could be a second day prospect who climbs into the top 40 of the 2015 draft.

Round 5a
Darius Kilgo - DT - Maryland - rSr
6'2" - 310 lbs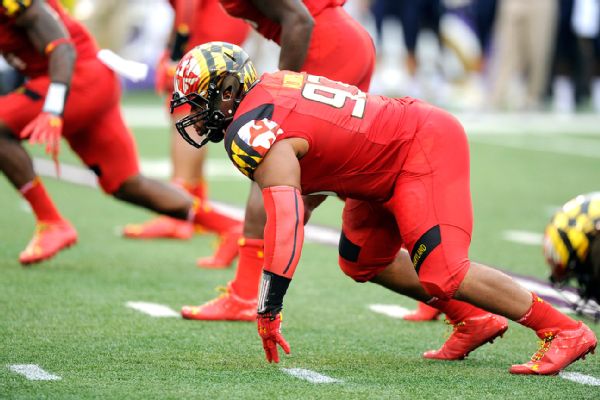 STRENGTHS: Built like a bookcase with a stout, sturdy frame and flashes some lateral quicks to sidestep-and-go when working off blocks. He plays with heavy, aggressive hands.

WEAKNESSES: Still learning how to use his big paws with inconsistent shed and rush moves. Kilgo tends to pop upright and needs to improve his pad level, relying on his ability to overpower rather than leverage or mechanics.

He doesn't have much range and needs to show more instincts on the field, but his anchor and raw strength has garnered mid-round projections from some scouts.


--Dane Brugler (7/24/14)
The linchpin of Maryland's 3-4 base defense, Kilgo has started 23 games over his career, lining up mostly as the starting nose tackle for the Terrapins. He has had moderate production (37 tackles, 6.5 tackles for loss and 2.5 sacks last season) from the zero and one technique spots, generating movement with his brute strength to bully blockers backards.

Round 5b
Bryce Hager - ILB - Baylor - rSr
6'0" - 228 lbs - 4.59
Aaron Staats wrote: Entering his senior season Hager was a consensus Preseason All American Candidate as well as a contender for various Player of the Year Awards including the Bednarik Award, Butkus Award, Bronco Nagurski Award, and the Rotary Lombardi Award.   A born leader who's been labeled the Quarterback of the Defense, Hager came into his senior as the 7th rated linebacker in the nation by NFL Scout.com and projects to be a 5th-7th round NFL draft pick.  His biggest attribute may very well be his leadership that has saw his defenses improve in consecutive years from 119th to 28th to their current ranking  of 10th nationally. 

Round 6
Sam Arneson - TE - Wisconsin - Sr
6'4" - 245 lbs
Wisconsin senior TE Sam Arneson was "dominant" as a blocker in Saturday's loss to LSU, raising his draft stock, writes TFY Draft Insider's Tony Pauline.
Arneson now has only 11 career catches, but he still has the attention of Pauline and NFL scouts. "Arneson caught a single pass for five yards during Wisconsin's fourth quarter loss to LSU, so why list him as a riser? In a nutshell, his blocking was dominant," Pauline wrote. "Arneson lined up on both the left and right side and his blocks resulted in Melvin Gordon being sprung free for long runs. He also did a terrific job in pass protection. Graded by scouts anywhere from a late round pick to free agent status, Arnseon has the physical and football skills to develop into a second tight end at the next level." The 6-foot-4, 254-pounder runs a 4.73 forty. CBS Sports' Dane Brugler wrote last month that NFL scouts are intrigued by the Badgers' prospect's measurables.

Round 7
Jeffrey Whitaker - DL - Auburn - rSr
6'4" - 322 lbs
Other Auburn prospects worth watching: Other Auburn prospects worth watching: DT Jeffrey Whitaker, RS Senior...Whitaker missed the entire 2013 season with a knee injury but enters 2014 with 18 career starts and previously caught my eye due to his NFL-caliber combination of size and agility. Respected for his work ethic and leadership, Whitaker is expected to re-emerge as a key contributor on a talented defensive line.