2015 NFL OFFSEASON
Resignings
Bryan Bulaga - 4 years, 30 million
Letroy Guion - 1 year, 1.5 million
BJ Raji - 1 year, 2 million
Scott Tolzein - 2 years, 2 million
Sean Richardson - Low RFA tender
Don Barclay - Low RFA tender
Losses
Randall Cobb - 5 years, 57 million
Tramon Williams - 3 years, 17 million
Davon House - 3 years, 15 million
Free Agency
Percy Harvin, WR New York Jets – 2 years, 14 million
Jacquian Williams, LB New York Giants – 2 years, 8 million
Comp Picks
2 6th-Round picks
ROUND 1
Eric Kendricks, ILB UCLA
6'0" – 232 – rSR STRENGTHS: Like big brother Mychal (Eagles), Eric is instinctive, aggressive and a more explosive hitter than his frame suggests. Closes quickly and with force. Light on his feet. Has good agility, flexibility and balance, especially as a pass rusher. Has the quickness and fluidity to be effective in coverage.
Compares To: Bobby Wagner, Seattle Seahawks -- Too small for some schemes but Kendricks' instincts, physicality and improved awareness in coverage make him a true three-down defender with the potential to earn Pro Bowl recognition in the right defense.
ROUND 2
Byron Jones, CB Connecticut
6'1" – 199 – SR STRENGTHS: Good combination of length, speed and ball-skills for press coverage. Shows smooth turning motion to run with athletic wideouts and good makeup speed.
ROUND 3
Justin Hardy, WR East Carolina
5'10" – 192 – SR
STRENGTHS: Not an elite speed player, but accelerates well with subtle quickness off the line of scrimmage to shake press. Intuitive target and finds soft coverages to exploit defenses. Excellent depth in his routes and works back to the ball, always trying to get open. Terrific job with body fakes to sell patterns. Quick footwork with concentration through the process, showing the ability to refocus on the move. Natural ballskills with sticky hands and a large catching radius, attacking the ball, not allowing it to come to him. Quick-thinker and has his next move figured out before the catch. Not content with just catching the ball and took advantage of catch-and-go designed plays in college. Tracks well with easy adjustments. Plays with urgency and competes on each snap, finishing runs and improvising when needed. High football intelligence. Heady and willing blocker and more than adequate in this area. Primary punt return duties the last three seasons (63/495/7.9). Soft-spoken, but confident and always trying to prove himself. Consistent workmanlike effort with meticulous practice habits. The most productive receiver in FBS history with a record 387 career catches and his 4,541 receiving yards ranks third all-time in FBS history. Won 2014 Burlsworth Trophy as nation's top walk-on.
ROUND 4
Ben Heeney, ILB Kansas
6'0" – 231 - SR
STRENGTHS: Good play speed with fast, aggressive pursuit angles. The switch is always flipped on the field, displaying a motor that never quits and chasing down plays he has no business being involved in. Smart, instinctive player who read/reacts well, breaking down well on the move. Locks onto his target quickly and doesn't make many mistakes. Physical wrap-up tackler and throws his body around with toughness to take the punishment. Plays pissed off with a chip and violent, competitive nature. Floats well in coverage to jump passes and get his hands on the ball (eight passes defended, four interceptions in his career). Experienced with man coverage responsibilities and was often the only linebacker on the field, rarely leaving the field. Physical downhill blitzer. Try-hard motor and leaves it all out on the field with resilient mentality. Handled adversity with a handful of different coaches in his four seasons at Kansas (9-39 record over that stretch).
Productive career -- led the Jayhawks in tackles each of the past three seasons, and led the NCAA in solo tackles in 2014 with 7.3 per game.
ROUND 5
Joey Mbu, DT Houston
6'3" – 313 – SR
STRENGTHS: Boasts the prototypical frame for a run-stuffer with broad shoulders, long arms and a massive lower half, including a big butt and tree trunks for thighs. Good upper-body strength to lock out and anchors well, holding up nicely at the point of attack.
Shows good balance and lateral agility to slide down the line and force the action wide. Effective swim move to penetrate as a pass rusher and has enough short-area quickness to close.
Good awareness. Gets his hands up in the passing game (eight career passes broken up, including two interceptions) and recognizes screens quickly, peeling off to locate the potential receiver rather than rushing the quarterback. Voted a team captain as a junior and senior.

ROUND 6A
Kyle Emanuel, OLB South Dakota State
6'3" – 255 – SR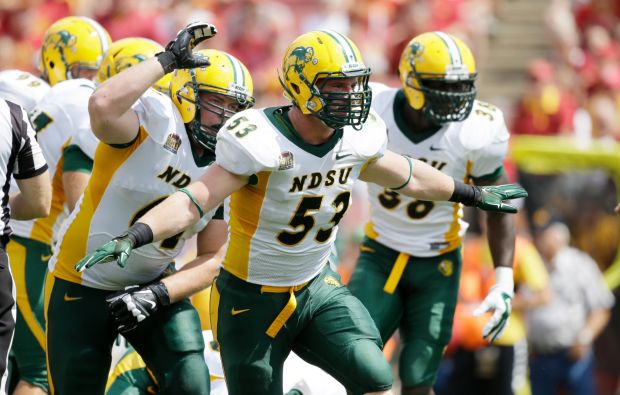 Winner of the 2014 Buck Buchanan Award as the top defensive player in the Football Championship Subdivision…Strong, fast performer whose motor is always running…Tied the NDSU record with 41 career total sacks...Finished his career sixth in FCS history and fourth in Missouri Valley Football Conference history with 35.5 career sacks…Played in all 61 career games including 49 starts...The Bison went 58-3 in his career with four conference championships and four NCAA national titles.
ROUND 6B
Connor Halliday, QB Washington State
6'3" – 196 – SR
STRENGTHS: Good frame for a drop-back passer with plenty of arm strength and while he isn't particularly elusive, he does have decent speed for his size. He typically throws in-breaking routes like slants and posts well, showing zip and good placement. At times shows very good accuracy on both intermediate and deep out-breaking routes, consistently throwing before his receivers turn. Deft touch on verticals down the sideline and when dropping passes over the defenders with their backs turned to him. Highly confident passer who performed well against top competition - including beating All-American cornerback Ifo Ekpre-Olomu for three touchdowns in a surprisingly tight game against Oregon (38-31).
ROUND 6C
Kyle Loomis, P Portland State
6'2" - 221 - rSR
STRENGTHS: Solid frame for a punter with broad shoulders and thick limbs. Quick set up, drop and kick of the ball. Impressive power. The ball simply explodes off of his right foot. Capable of drilling the ball deep and with a low trajectory for maximum distance or sending it skyrocketing up to force fair catches, something he successfully accomplished 41 times over the past two seasons. Capable of angling his punts effectively to pin rushers to the sideline. Experienced on kickoffs, showing plenty of leg to consistently generate touchbacks. Rare maturity given his age and military service.
ROUND 7
Casey Pierce, TE Kent State
6'4" – 244 – rSR
Career
• Ranks eighth in career touchdown catches at Kent State with 11
• Ranks 11th in career receptions with 97
• Ended career with two or more catches in 18 straight games and three or more catches in 12 consecutive games
Previous Mocks:
1.0
2.0